2012.10.23
[Event Reports]
International Competition Juries Press Conference: Notes & Quotes
International Competition Juries Press Conference: Notes & Quotes

Date & Time:
October 22nd (Monday), from 17:00 @TIFF movie café
Appearance:
Roger Corman, President of Jury (Director/Producer);
Luc Roeg (Producer); Yojiro Takita (Film Director);
Emanuele Crialese (Director/Writer); Kyoko Heya (Production Designer)


©2012 TIFF

Roger Corman: I was the President of the Jury for Young Filmmakers for this festival in 1994. I had a wonderful time then so I thought I'd like to come back to revisit the experience with the full aspects of the festival. We've seen a number of excellent films so far and we're looking forward to the rest of them. We're happy to answer any questions except questions about the film.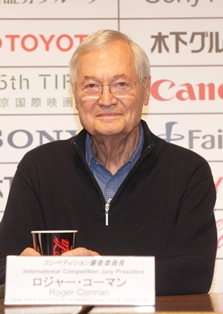 ©2012 TIFF

Luc Roeg: I'm very excited and honored to be here. It is my first time in Japan and being part of the festival is a real privilege. It's always enlightening when you travel to another culture where cinema is your vehicle to do that. It's a real privilege to communicate through film because you cross any language and any boundary. That's one thing I look forward to enjoying and sharing with my co-jurors.

©2012 TIFF

Yojiro Takita: I'm pleased to be here as a member of the jury on such a memorial year for the film festival. Being a filmmaker myself, I find it difficult to judge another filmmaker's film. Many people tell me that I've entered the realm of 'veteran' filmmakers but right now, I feel as if I'm back in those days when I first started making films—that is, those days when I'd watch three or four films and enjoy them very much. I look forward to being immersed, once again, in great films for the next week. I can't talk about the films today, but I can tell you that we are having a great time as sons and daughters with our 'Big Father', Mr. Corman.

©2012 TIFF

Emanuele Crialese: This is my first time in Japan and at this festival. I had only seen Japan in Rome through Ozu and Kurosawa films so it's very thrilling to finally be here. I'm honored to discuss great movies with such prestigious colleagues, especially with somebody like Roger. So far we pretty much agree on many points, but the big fight is yet to come. I'm sure it's going to be very interesting and a wonderful learning experience.

©2012 TIFF

Kyoko Heya: As the days pass, I've started to realize in a positive state of tension that we are here to judge films, which means that we are given the opportunity to be in the shoes of the filmmakers and to feel 'The Power of Films, Now!'. I must say that the ambiance is great amongst us juries with no national boundaries.

©2012 TIFF

Q: Was it discussed among the juries what some of the criteria for judging would be?

Roger Corman: We discussed before looking at the films that decisions were going to be made only on the quality of the films, that we would pay no attention to politics, country of origin, or anything extraneous to the quality of the films. That is our only criteria.

Q: What is a good movie for you?

Emanuele Crialese: Definitely the emotional impact and the way filmmakers bring us into their world as well as the way a film captures our attention so that we empathize with the characters is important. Also from a filmmaker's technical point of view, I also look at other aspects of a film such as the message and the skills of the performers.

Q: What is your view on Japanese cinema and filmmakers?

Roger Corman: There are a number of Japanese filmmakers who I've admired though the years. First would be Akira Kurosawa. I had the privilege of distributing one of his films, "Dersu Uzala" in the United States. He won the Academy Award for Best Foreign Film at that time. I can also go back in time to Yasujiro Ozu, a brilliant filmmaker who brought technique that was different from the Western technique. It was the first time I'd seen pacing and framing the way he did. And finally there was a film director who beat me in a film festival, Kon Ichikawa. He won the grand prize and I won the second prize. There has been a long and wonderful tradition of filmmaking in Japan, which takes from the rest of the world and gives back to the rest of the world some of the culture of Japan.

Q: What do you think is the role of an international film festival?

Yojiro Takita: As a filmmaker, to be exposed to an international film festival is a very leaning experience because you are leaving your comfort zone. For instance, in some countries the audience is much more outspoken about their feelings toward a film and may actually "boo" a film in a theater.

Roger Corman: I did a series of films in Moscow in the 1990s where I was talking to Vladimir Dostal, the President of Mosfilm which was the leading studio in Russia. At that time, Mikhail Gorbachev had just broken up the Soviet Union. I asked Vladimir why he thought the Soviet Union dissolved, to which he said that the people had seen Western motion pictures and television and they saw a way of life they did not have. I was surprised because that's as powerful a statement I'd heard about the power of motion pictures.

Emanuele Crialese: It's important to put the filmmakers in an equal position. In the competition of a film festival, there's no such thing as a movie that is recommended more than others—they all receive the same amount of attention. Of course, sometimes you see films with big stars in competition with films that are shot with a very low budget, so you ask yourself how these two films could possibly compete. But there is an underlying philosophy that every film has the same opportunity to be screened and every filmmaker has a place of his own. In this sense, international film festivals are crucial for filmmakers to promote their film and receive voices from the world.

Kyoko Heya: Being in the field of production designing, I would love to be able to expand my work to the world.
In the end, Mr. Crialese and Mr. Roeg shared their views on what it means to have expectations in a film festival. "I avoid expectations because everything that comes, comes as a surprise. But I'm a curious person so I'm open to surprises. I expect myself to not have any expectations" explained Mr. Crialese. Mr. Roeg added in the end, "There's always a level of curiosity when watching a film and that is a good way to learn about a culture."