2012.10.26
[Event Reports]
Competition Section "Atambua 39 ⁰Celsius" Press Conference: Notes & Quotes
Competition Section "Atambua 39 ℃elsius" Press Conference: Notes & Quotes
Date & Time:
October 25th (Thursday), from 14:00 @TIFF movie café
Appearance:
Riri Riza (Director/Screenplay), Mira Lesmana (Producer)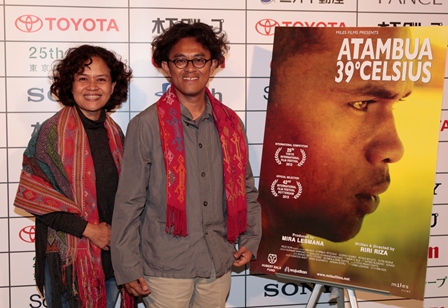 ©2012 TIFF

Here are some notes and quotes:

Riri Riza (RR): It's great to be back at the Tokyo. My last visit to Tokyo was with my film, "Eliana Eliana" screened (at Japan Foundation Film Festival) in 2003. It's a great honor to have "Atambua 39 ⁰Celsius" in the Competition section this time. Last night I got a very warm response from the audience and I hope to receive more comments in the second screening.

Q:How did you decide to combine the documentary approach with this narrative film?

RR:I tried to tell stories as intimately and authentically as possible. I wanted to reflect the life of the people who live in a very particular situation. Atambua is a city on the border of East Timor and Indonesia. As you know, East Timor gained its independence in 2004 after the 1999 referendum. It's had a long history of colonization from the Portuguese, Dutch, and finally the Indonesian government. The people of East Timor live with a very strong culture, yet divided several times by colonization. I wanted to tell this experience very close from the hearts of the people who live there. That's why I used the documentary approach. Atambua being a three-hour flight and a seven-hour drive from Jakarta, it was hard to imagine ourselves going there with big cameras and lighting equipment. So we decided to shoot it in a guerilla style—that is, like a documentary.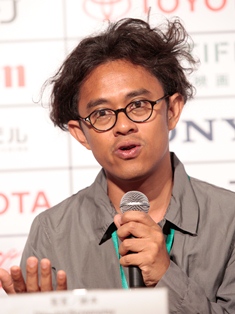 ©2012 TIFF

Q:You shot the Easter parade scene amidst the actual parade held in Atambua. Was it your intention to illustrate hope and restoration of the people through the scene with Christ on a crucifix?

RR:The parade represents the 14 steps of Christ struggling before the crucifixion. Actually, I don't want to say anything too specific about the condition of the people there. The thing is, it was hard to edit that part at all because I didn't want to symbolize the parade scene nor Jesus Christ on a cross. The idea of this Easter parade being held every year shows people's devotion to Christ and humanity. Also, this ceremony is something to remember for the people in Atambua because they constantly retell the story of Christ. I'd like to respect people's devotion and not comment too much on that scene.

Q:Were the people of Atambua helpful and supportive?

ML:It was the first time for us to see the ceremony and so we did tell the people of Atambua beforehand that we would be shooting the parade. The actors just went in the crowd and the director and crew stood by and shot the entire 6 kilometer walk. The local people knew we'd be there for two weeks shooting their village, but they were welcoming and didn't seem disturbed at all.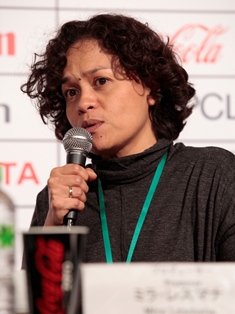 ©2012 TIFF

Q:What kind of actor is Joao, the main character?

RR:Joao, or Gudino Soares was 17 years old at the time of the shooting. His father was a member of the police force of the Indonesian government. After the independence in East Timor, his family became pro Indonesia—that's just the way it is. If your family works for the government or country, you became pro Indonesian automatically. So after the referendum, Joao and his family had to flee East Timor to Indonesia. There actually are many similar stories like Gudino's. I asked him if he wanted to return to East Timor, but he said that although he still has friends and family back home, he's doesn't want to return. Gudino is an attractive and dynamic young man. He's fashionable and funky wearing flashy clothes and always a rosary.

ML:Gudino was in his last year in high school when we were shooting this film. He had final exams coming up right after the shooting but he was very determined to be a part of the film as well as determined to find time to study. And now he's passed his test and studies at a university in East Java.

Q:Is Ronaldo's last message that 'nobody can take away home from me' the words you heard in Atambua?

RR: During the process of writing the script with East Timorese and Indonesians, we felt that even though we are separated politically, we should be united at heart. I am pro peace and so it hurts that there are so many problems not only in East Timor but in many parts of Indonesia. I hope this is the opinion of people who also long for peace. Well, the Ambassador of East Timor came to the screening of this film last night and I am sure he doesn't have any problems with it! We are having dinner together tonight and he's paying for it!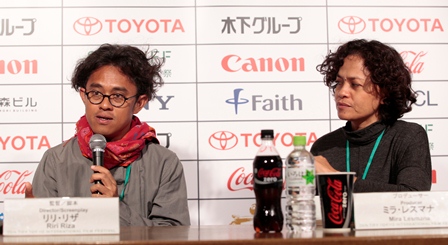 ©2012 TIFF