2012.10.27
[Event Reports]
Competition Section "Araf – Somewhere in Between" Press Conference: Notes & Quotes
Competition Section "Araf – Somewhere in Between" Press Conference: Notes & Quotes
Date & Time:
October 26th (Friday), from 11:30 @TIFF movie café
Appearance:
Yeşim Ustaoğlu (Director), Neslihan Atagül (Actress)

©2012 TIFF

Here are some note and quotes:

Yeşim Ustaoğlu (YU): It is an honor to be invited to this festival. This is my third time in Japan and I've been deeply influenced by the culture and tradition here. Every time I come, I find something new to absorb.

Neslihan Atagül (NA): It's my first time in Japan and I already find myself being influenced by your country.

Q:From your long experience as a filmmaker, why did you decide to shoot a coming-of-age story?

YU: Before I started this project, I was working on a film called "Pandora's Box". At the end of this film I made a statement about how to relate to your own life and live it as you like. For this film, I used the working-class and young generation to pose the question of what vision lies ahead for these people.

©2012 TIFF

Q:The number of Turkish films has increased at this festival. What changes have taken place in the Turkish film industry in the last ten years?

YU: From the 1990s, the Turkish film industry became very positive and I am from this generation. Our generation started a sort of revolution in production so in a sense we created a new start. And this has paved the way for the young generation today. As well, we now have new technology such as digital filmmaking which has positively contributed to the system of shooting films. This has made production more economical and democratic and has allowed us to participate in many film festivals and competitions in the world.

Q:Is there something common between you and Zehra?

NA: Zehra wishes to be completely gone. In this sense, there is nothing common between us. I sometimes have the desire to be gone but after a couple of days, I know I want to return home. One thing though is that touching and smelling are important for Zehra and it is for me as well. This is probably the only common character we have.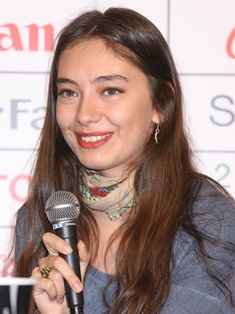 ©2012 TIFF

Q:Could you tell us about the casting process?

YU: When writing the script, I focused on the roles of Zehra and Olgun because I knew that this film wouldn't exist if I didn't make these two characters realistic. Therefore, the casting process took very long to find young and fresh actors. Orgun is from the theaters and has more experience in acting than Neslihan. As for Neslihan, she has a very heavy role but she did a superb job. Another point I had in mind regarding casting was that the chemistry between Zehra and Olgun was important—their personal experiences and wishes had to match. I think this worked out well and the reason why we have a good film.

Q:Could you tell us about the shooting of the scene in the toilet when the baby was stillborn?

NA: I watched videos of actual deliveries of babies and talked to doctors as well. I also had long talks with the director and shared a lot of opinions. The interesting thing about this scene is that there is something in the woman's body and she is not allowed to connect to it…because needs to get rid of it. She knows she has to get rid of it but it is very difficult to come to terms with that fact. It's painful, it's sad, it's tough…and it's revolting. There's a lot of bodily fluids and blood and it is just shocking. And so of course Zehra faints in the toilet. I find it very difficult to even start explaining this scene to you…

Ms. Neslihan Atagül spoke passionately, carefully choosing her words. The emcee wrapped up, "I strongly felt what you really wanted to convey to us through your facial expressions. Thank you for sharing your thoughts."

Araf – Somewhere in Between