2012.11.06
[Interviews]
[Interview] Competition "The Other Son"
Interview with Director Lorraine Levy, Producer Virginie Lacomb and Actor Jules Sitruk ("The Other Son")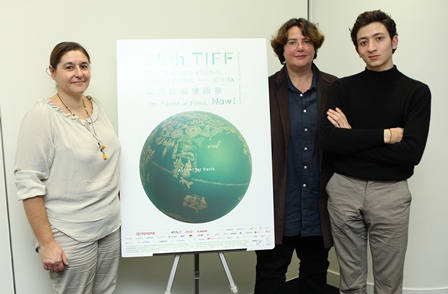 ©2012 TIFF

In the French film "The Other Son," it is revealed that two boys, one who has grown up in an Israeli family and the other in a Palestinian family, were accidentally switched at birth. The two families struggle as they reconsider their respective identities and values with regards to mothers and fathers. We talked to the director, Lorraine Levy, who views the Israel-Palestinian problem from a unique standpoint, producer Virginie Lacomb, and actor Jules Sitruk, who played Joseph.

–Virginie, the project started when you received the movie treatment. What kind of potential did you see and how did you approach Ms. Levy?

Virginie Lacomb: As I read the treatment the movie was vivid in my mind, and I knew it would be good. I showed it to a good friend of mind, the screenwriter Nathalie Saugeon, and she felt the same way so I asked her to write a script with some additional original ideas. As for the director, I really wanted a woman to make this film. Lorraine's first feature, "The First Time I Turned Twenty," is about the feelings of a 20-year-old woman, and it really impressed me, so I asked her to direct. Her strong point is that she's very fair and passionate about her work. She has a strong sensibility.

©2012 TIFF

–Lorraine, Virginie mentioned your first movie, which is about a Jewish girl who loves jazz and tries to join her school's all-male jazz band. Your second movie, "Mes Amis, Mes Amours," takes place in a French community in London. "The Other Son" is your third film. In all three you seem to be interested in identity, crossing cultures, borders.

Lorraine Levy: That's a very perceptive observation. You're right, the main theme of my films, even those I haven't made yet, is people's identities. This time I really enjoyed working with Virginie, so I asked her to help me make my next film, too. Next time I want to make something that goes a long way toward looking for and finding myself.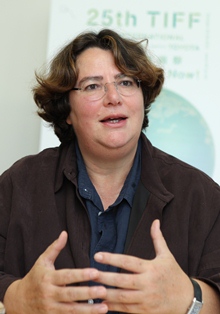 ©2012 TIFF

–The overall meaning of the conflicts, which take in politics, religion, nationalism, were scrutinized at the family level–conflicts between mothers and fathers, between sons, siblings, daughters.

Levy: I'm glad you focused on that aspect of the movie. I wanted the audience to think of their own situations while watching it, as if they were that mother or that father or that son or that friend or that lover. If you watch the movie in that way it means you get one step closer to the character because you think about the situation even if you don't do anything about it. It's a modest approach, but I think movies can open that door.

–Jules, when you were offered the part what was your impression?

Jules Sitruk: When I read the script I immediately wondered how I would react if I were in the same situation as the character, and then I started creating the role. As an actor it's not often you get a part with this kind of depth. The mother in the movie says, "You're a dreamer," and he lives his life almost instinctively. How would such a boy respond? I talked to the director a lot about this, and she helped me. I always need to work with the director, especially on this kind of film. The director clearly understood what she wanted to do, so immediately there was sympathy between us and a relationship of trust developed. Consequently, I was able to develop a very profound character.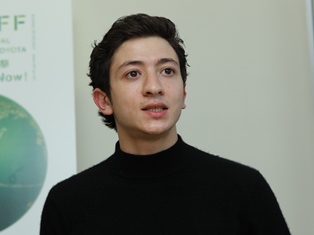 ©2012 TIFF

–Music is very important to Joseph. Did you receive special training?

Sitruk: Yes, of course. I don't have any special musical or singing ability. And Arab music is different from Western music. I worked with an Arab music teacher. Music plays a big part in the role, and I wanted to be as close to perfect as possible. He goes to a place that makes demands on his soul, and he uses music as a means of communication as he approaches this other family.

–The movie doesn't just focus on family. For instance, the scene where Joseph talks with the rabbi and the one where the other son, Yassin, passes through a checkpoint with his brother are tense, regardless of the story, and remain with the viewer. What do you think about that, Lorraine?

Levy: I tried to come up with possibilities for each character. In this film, an extreme situation completely undermines a young man's existence until this point in his life. I tried to show that using a simple method. The characters review their own histories, but rather than use dramatic devices I had the camera stay on them as they talked about it unemotionally. I think that type of filmmaking answers your question.

–At the beginning of the interview Virginie used the word "fair." In order to maintain fairness, did you change the script as you went along?

Levy: There were a lot of things in the script that turned out to be unrealistic, and we could change them thanks to advice from the staff and others we met on location. For instance, when Yassin was returning from France, we originally had his family going to the airport to pick him up, but we threw out that idea because we learned you need special permission to go to the airport. Also, we had a scene in which the Palestinian father visits the Israeli father, but later discovered that such a meeting is very difficult in real life, so we changed that. The staff was mixed, and the script itself was enriched by their input. As you said, we were always careful to keep in mind this balance while filming. I didn't want to make a movie that stressed one point of view over the other. We wanted a film that stressed both sides, a film that listened to voices on both sides.

©2012 TIFF
The Jewish-French director Lorraine Levy has a strong interest in identity. In "The Other Son" she uncovers her own theme, which proceeds from the Israeli-Palestinian problem to more universal ideas. This universality touched our hearts, thus making it an appropriate choice for the Tokyo International Film Festival Sakura Grand Prix.

Interview by Masaaki Oba (Film Critic)