2012.10.26
[Event Reports]
Competition Section "The Black Square" Press Conference: Notes & Quotes
Competition Section "The Black Square" Press Conference: Notes & Quotes
Date & Time:
October 24th (Wednesday), from 16:30 @TIFF movie café
Appearance:
Hiroshi Okuhara (Director/Screenplay/Editor), Hideo Nakaizumi (Actor), Miki Suzuki (Actress)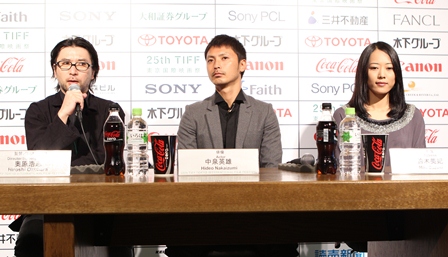 ©2012 TIFF

Here are some notes and quotes:

Q:This film is shot entirely in Beijing and it is all in Mandarin. What was your intention behind this?

Hiroshi Okuhara (HO): I shot this film in China because back in 2008, I was selected as one of the artists for the Agency of Cultural Affairs scholarship to study abroad. I wrote several scripts while I was in China and this was the first one. The reason why I chose to shoot this script first was because I was able to write it naturally.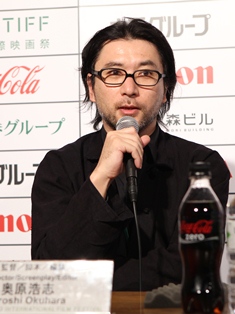 ©2012 TIFF

Q:How did you approach your role? Did you have any difficulties?

Hideo Nakaizumi (HN): I had a pretty clear idea of how to approach my role and the wartime setting. But there were some scenes from the past and present which were quite abstract so I didn't have a definite idea of how to approach those parts. I discussed this with Mr. OKuhara and he advised me not to think too much about that, so I acted my role with a free-plan approach. As for difficulties, I'm not too good with Chinese so I had a native speaker record my lines and I practiced them by listening to that tape. I've been in a couple of Chinese films and I picked up some of the language there, but I haven't learned it formally.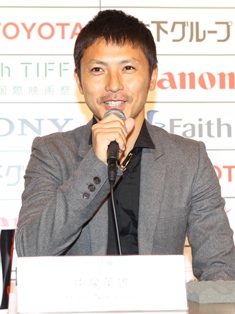 ©2012 TIFF

Miki Suzuki (MS): I only appear in the contemporary scenes so I tried to make my acting rather real. Instead of adding to what is written, I tried to deduct it and make it as simple as possible. I speak Chinese because I've been living in China for some years now, but it's not perfect. But I deliberately did not work on speaking perfect Chinese. So I didn't have such a difficult time with my role. I moved to China in 2006 to base my acting career there. I spent the first years focusing on learning Chinese and come to think of it, it's already been seven years.

©2012 TIFF

Q:What are the advantages and difficulties of basing your acting activity in China?

HN:My outlook is rather simple. As long as I can get a good role, where I'm working is not a priority. Once in front of a camera, it doesn't make a difference where you are so there aren't any problems working abroad.

MS:When I first went to China I started out by going to auditions, taking on small roles—any role I could get. I gradually met people who began to support me so I have very special feelings towards working abroad.

HO:I used to make low budget films in Japan as well so I didn't find it difficult to do the same in China. But one difference is that I knew how to shoot a low budget film in Japan whereas I didn't how to do the same in China since the system is different. This process was time consuming at first. We went along with the Chinese system to shoot this film and so the environment and atmosphere was quite different. It started off with explain the concept of making a low budget film, since the concept itself wasn't familiar to the Chinese people.

Q:What does the title, "The Black Square" represent? Where did you get the idea for this theme?


HO:What I wanted to portray in this film were two abstract themes, which are ghosts & spirits and love. The issue was coming up with a way to show these two ideas onto the screen and to include the past and present. I thought that there had to be a pathway to travel back and forth in time. This is when I thought of using a black square. One day Zhao Ping sees a picture of a black square and starts drawing it himself. The next day he sees a black square floating in the sky. I wanted to make it something accidental with not much meaning.

Q:With the situation between Japan and China, do you think this film will be screened in China?

HO:With the current situation, it won't be possible to screen this in China although all of us involved in this film would love to. But there are several 'checks' conducted before a movie makes it to theaters such as the script, the shooting, and the film itself. Moreover, there aren't any so-called 'mini-theaters' in China that specialize in screening independent productions, so I don't know if this film will ever make it on screens.

Q:What are your thoughts on the Competition section Chinese film, "Feng Shui" having been asked to be withdrawn from this film festival by the exhibitor, but being screened in the festival?

HO:I personally I'm impressed by how the Tokyo International Film Festival Office has dealt with this issue. Although the Chinese production company called off the screening, TIFF went ahead with the screening which I attended as well. A comment from the executive producer was read out loud which I though was very respectful. I'd like to tell the whole world that there is no filmmaker in the world that would not like to show their film to the world. I am sure the Chinese filmmaker of this film would have loved to screen this movie for the Japanese audience, but unfortunately, the circumstances didn't allow that. At the same time, the film festival accepted this reality and did not criticize their attitude. Again, I thought that was very respectful.


©2012 TIFF