2012.10.26
[Event Reports]
Competition Section "Nina" Press Conference: Notes & Quotes
Competition Section "Nina" Press Conference: Notes & Quotes
Date & Time:
October 25th (Thursday), from 15:30 @TIFF movie café
Appearance:
Elisa Fuksas (Director/Screenplay), Natalie Cristiani (Editor)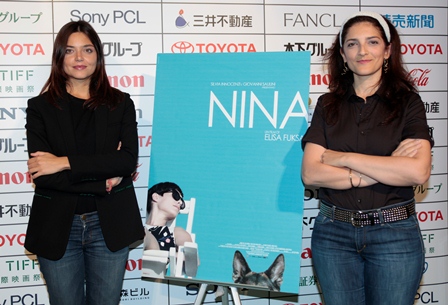 ©2012 TIFF

Here are some notes and quotes:

Elisa Fuksas (EF): I am very happy to be here and to have had my film screened yesterday. Tokyo is quite different from Rome so I look forward to seeing more of the city tomorrow.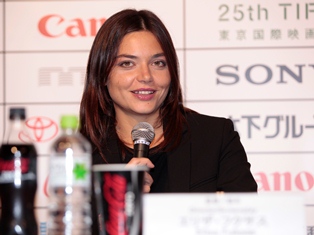 ©2012 TIFF

Natalie Cristiani (NC): Thank you for coming today. We've received a lot of warm welcomes from the Tokyo International Film Festival. It is very nice to meet the Japanese movie fans and to greet them.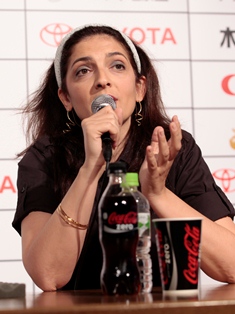 ©2012 TIFF

Q:The visual of this film is very beautiful. Are there any artists or painters that you've been influenced by?

EF:Many novelists such as Raymond Carver have influenced me throughout the years. As for filmmakers, I love David Lynch and Federico Fellini and Nan Goldin who is a great photographer. However, although I've been influenced by many artists, I didn't make this movie with a specific artist or painting in mind.

Q:Nina seems to be about the same age as the director. Is there any autobiographical essence in this film?

EF:Yes there is. It took about eight years to make this film and this was the last version I came up with. I actually only had a month and a half to come up with the story so I didn't have time to come up with any big storyline. Therefore, I ended up writing a lot about myself and the world around me. Nina is a collection of many people—not just me. When writing the script, there was this famous scriptwriter called Sandro Petraglia who gave me a great comment. He said that until he read my script, he didn't understand what went on in the minds of women in their thirties except for that they would repeatedly fall in love and break. I was happy to know that he liked my script.

Q:How did you come up with the beautiful production design such as Nina's fashion and the calligraphy?

EF:I believe that details are very important in filmmaking. To illustrate, if you look at Earth from far above it's only a blue ball. But up close you see cities such as Rome, Los Angeles, and Tokyo. In that sense, Nina's fashion was important because she's not living in her own apartment, therefore, we don't know what kind of home life she has. The only clue we have of her life is her clothes. So in a way, her clothes are telling her story and what kind of person she is. As for the calligraphy, Nina is planning to go to China which is an escape in her own way. As we wanted to focus on this, we used calligraphy to visually express her desire to escape.

Q:With a film with such strong visuals, what was the editing process like?

NC:I really don't know if it was easy or difficult to edit this film. One thing though is that I tried to select scenes that conveyed the abstractness and the emotional quality of this film. I've known Elisa for some years now and although she is young and this is her first film, she is very open to other people's opinions. She was willing to change ideas during the editing process such as the music, an essential element in this movie.

Q:The interpretation of the last scene is left opened ended. What happens to Nina?

EF:The Japanese 'origami' comes out in the end and I can say that I made this film just for that scene. That's how important that scene is. Here the two of them are eating breakfast and we know that she soon has to be alone again. She then starts to think that perhaps she can be like other women—fall in love, break up, and meet someone new again. But also knows that such a life is not easy as well. There are various ways to interpret what will happen to Nina. Maybe she will have an ordinary life or maybe not!