2012.10.26
[Event Reports]
Competition Section "The Other Son" Press Conference: Notes & Quotes
Competition Section "The Other Son" Press Conference: Notes & Quotes
Date & Time:
October 24th (Wednesday), from 15:00 @TIFF movie café
Appearance:
Lorraine Lévy (Director/Screenplay), Virginie Lacombe (Producer), Jules Sitruk (Actor)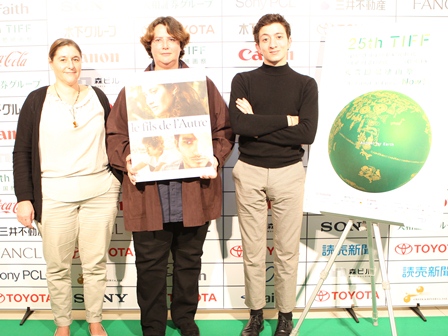 ©2012 TIFF

Here are some note and quotes:

Lorraine Lévy (LL): It is my first time in Japan and it is one of my dreams come true! I haven't seen much of Tokyo yet but I had a chance to visit a museum this morning.

©2012 TIFF

Virginie Lacombe (VL): This festival, the people, and the organization are just wonderful! Thank you!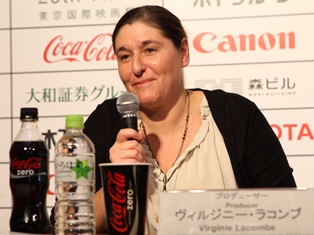 ©2012 TIFF

Jules Sitruk (JS): I am happy to say that it is my second time here. I came to the French Film Festival in Yokohama few years ago. I had a good time then and so I am very happy to be back with this film at the Tokyo International Film Festival.

Q:What did you think about the response of Japanese audience after your first screening and Q&A session?

LL:I was very impressed. The questions and comments came straight from their emotions received by my film which reinforced the emotional part of the film. I was able to respond to their questions by elaborating on the important points of the film instead of the political aspects.

JS:I was also very touched by the audience's response. I was told that the Japanese people are shy but many hands went up during the Q&A session. Also the questions focused on the emotions of the film so that was very good. Also, I was surprised by one of the audience. In my last trip to Japan, I introduced my previous film, "Moi César, 10 ads 1/2, 1m39". There was this one person who started learning French after seeing this film so I was very proud and happy to know about this.

©2012 TIFF

Q:Who brought you the synopsis?

VL:The person who brought me the synopsis isn't involved in filmmaking or a scriptwriter either. He is Jewish-French but doesn't live in Israel. He just came up with the idea, wrote several pages about it and brought them to me. I then hired a scriptwriter and developed this film.

Q:The shooting took place along the west banks of Jordan. Did you have any difficulties doing this?

LL:This film was all shot in Israel. There were many difficulties but I went through many emotional and exciting experiences and adventures. There was an issue, however, about the scene depicting a Palestinian family living in a village called Ramla. The villagers of Ramla didn't want us to shoot the film in their village and we received some threats. However, since our crew was a mix of French, Jewish-Israelis, Arab-Israelis, Arab-Palestinians, and Christian-Arabs, we were able to overcome different issues.

Q:As a French-Jewish, what experience did you personally gain by shooting this film in Israel?

LL:I'd visited Israel as a tourist in the past but it was the first time to make a film there. I had a lot of discussions regarding the screenplay because it was written by three French people and some parts were not accurate. We discussed these parts without any preconceptions or taking sides. This film is about hope. What I learned was that there is a wall that separates Jewish people and Palestinians which causes a deep pain on both sides and symbolizes their pain. I also learned that the young people living on both sides want to live freely and want their voices to be heard. I hope to give hope to those youngsters through this film.

Q:What is the song that Joseph sings with the real Palestinian family towards the end of the movie?

LL:It is a very simple Palestinian folk song for children. I wanted to depict that music and art can connect people despite of political complications. So, it had to be a song that Joseph raised as a Jewish could learn and memorize to be able to sing with the real family. This song shows that Joseph is taking one step toward that family. That is why I didn't want to have it translated with subtitles because the lyrics are beautiful as they are.

JS:This was one of the most difficult scenes to shoot—it took a whole day. The music was very different from music from the west so I had to practice with a teacher for several weeks. I didn't have to be able to speak Arabic perfectly, but this scene shows that risks are being taken and that the effort is being made. You can tell that the people in this scene are coming closer to each other with the power of art. Even though this was a role I played, the emotional impact I felt was for real.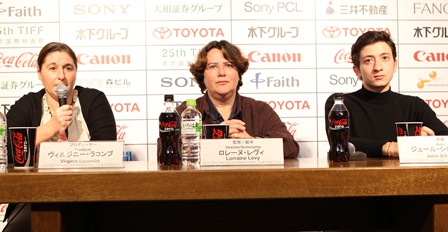 ©2012 TIFF