2012.10.31
[Event Reports]
"Roger Corman is the person that gave me my first pay check" 10/28 (Sun) Official Closing Film –Trouble with the Curve – Stage Greeting
10/28 (Sun) Official Closing Film –Trouble with the Curve – Stage Greeting held in Q&A style with Director Robert Lorenz.

©2012 TIFF

Robert Lorenz: I was fortunate to spend a great deal of time here, few years ago, making the movie called Letters from Iwo Jima. I met a lot of wonderful people and really fell in love with this country. I am really grateful to TIFF for inviting us back here.

Q: You have been nominated in Academy Award as a Producer and this is your first time to make a challenge as a Director; did you have any hesitations upon directing this film?

Robert Lorenz: I was quite anxious to direct that's why I got into this business. If I hadn't been so busy producing Clint Eastwood's films, I would have done it sooner. I was glad to finally get a chance to do it. I had no hesitations.

Q: How did you come up with this screenplay?

Robert Lorenz: It was submitted to our office by a friend of mine. It appealed to both Clint and I and we decided to make this film. I met this friend many years ago while working at Roger Corman's studio of all place, he is the person that gave me my first pay check in the business. I was very pleased this morning to see him here and see that he is a judge,

Q: The story of baseball films are usually portrayed as father and son relationship but this film portrays father and daughter relationship; did you have any particular purpose in that?

Robert Lorenz: It's really about the people and baseball is just a setting. It is about an aging father and his daughter, her relationship to another man and how it changes. The important part that I wanted to depict was the human relationship.

Q: What have you learned from Clint Eastwood?

Robert Lorenz: Certainly, Clint has been in business for so long that he has acquired great deal of knowledge and experience; and I have learned great many things. I guess the most important thing that I learned was about having a sense of confidence in whatever you do. When you are directing the film, people are all looking for leadership. You need to reassure them that you have a plan and that you are leading them on a journey that is going to be worthwhile. So that is something that I have learned from Clint.

Q: As a Director, what do you find attractive about Clint Eastwood as an actor?

Robert Lorenz: Well, he is a very efficient actor and also as a filmmaker, he moves very quickly and that keeps everybody's motivation and momentum up. That is a wonderful thing that people like about his character and that is why audiences and fans come to see his films and keep coming back to his movies to every role that he plays.

Q: How was it like to work with Amy Adams and Justin Timberlake?

Robert Lorenz: They are both wonderful actors. Amy is a joy to work with, she is a true professional. She really embodies every role that she plays and has a strength to really stand up to Clint on screen. She is really a wonderful actress.
Justin is a wonderful charming person, whose energy is infectious and helps to keep that portion of the film alive.

Q: Could you send a message to the audiences who will be watching the film?

Robert Lorenz: I hope that you will enjoy this film festival and feel the spirit of this festival. Thank you for coming.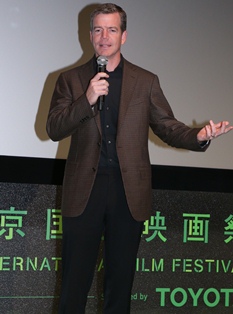 ©2012 TIFF