2012.11.02
[Interviews]
[Interview] Competition "A Hijacking"
Interview with Actor Søren Malling, Producer Tomas Radoor ("A Hijacking")

©2012 TIFF

A CEO who negotiates with pirates becomes a prisoner too.

Pirates seize a cargo ship on the Indian Ocean. The CEO of the shipping company decides to confront the problem himself by negotiating directly with the pirates, who are demanding an extremely high ransom for the crew…
Denmark's "A Hijacking" is a very "masculine" suspense film, a relentlessly heart-stopping psychological thriller. It is the second feature by a new and very talented director, Tobias Lindholm, who wrote Thomas Vinterberg's well-regarded 2010 film "Submarino."
One of the stars of "A Hijacking," Søren Malling, along with the producer, Tomas Radoor, brought the film to Japan and answered a different set of questions than the ones they received during the press conference. Here is our interview to accompany the article about the press conference.

–Your first feature as producer, "25 Minutes" (2005), was released in Japan on DVD. Did you also produce Tobias Lindholm's debut, "R" (2010)?

Tomas Radoor: Yes, I did. After "R," Tobias Lindholm offered me an idea about a hijacking for a new movie and we decided to work together on it. "25 Minutes" was a suspense film about a bank robber hijacking an ambulance, but it's just a coincidence.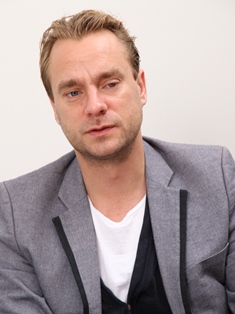 ©2012 TIFF

–What type of producer are you? Do you simply support the director, or do the two of you work as a unit?

Radoor: It's difficult to make a distinction. Sometimes it's both and sometimes it's neither. The main job of a producer is to support the director and the story. To do that, you have to make a movie with love in it and work with your actors and staff with love. At the same time you have to crack the whip. Of course, conflicts occur, but everything I do is to create a situation where everyone can do their best work. So love and the whip coexist. That's what I think the producer's job is.

–Mr. Malling, you were excellent as the CEO, who had to endure extreme conditions without showing emotion. That's interesting because one overseas movie website describes you as a "comedian."

Søren Malling: No, I'm not a comedian. I'm an actor. (laughs) But I've done many comic roles. Sometime I show up in a movie and say something funny to make people laugh. I've done that kind of supporting role in a number of films.

©2012 TIFF

–You became popular in the TV drama "The Killing" (2007), which set a ratings record in Denmark and where you played Jen Meyer, the partner of the main character Sarah, a female detective. Jen was a very emotional character, so it made a big impression. But this CEO, who didn't show any emotion, was also very vivid.

Malling: The CEO in "A Hijacking" was a very difficult, very challenging part from an acting standpoint. I was attracted to the role because I had to suppress my emotions in order to enrich the expressiveness of the character. If you reveal all your emotions in the first two minutes, after that you have nothing left, so when you suppress your emotions as much as possible, it comes across as being more realistic and makes the viewer wonder what the character is thinking about. In that way, I can convey his thoughts more deeply.

–When the CEO was negotiating for the lives of the crew, at one point the pressure of the situation almost crushes him. Then you see him putting on a shirt and while he ties his tie his expression cools down. His wife comes to his office and tries to be reassuring, but he says "get out" very coldly. That's the best scene. Was it difficult to do?

Malling: It's a very important scene, but the acting itself was not so difficult. My scenes were shot almost sequentially, so until that point I understood completely how desperate his struggle was, and I could become the character rather easily. I also think that was a good scene. I'm happy if it made an impression.

–The crew was held hostage at sea by the pirates, and the CEO never leaves his office, so structurally the film could be called a sealed-room drama that takes place in two locations.

Radoor: That's right. The CEO, whose task is to save his crew, has a great moral and social responsibility and is alone, so both parties are prisoners.

Radoor: After the long negotiation, the movie doesn't tell you where the CEO goes. I hope he goes back to his wife, kisses her, and patches up their marriage. (laughs)

–The actors who played the pirates and some other characters were mostly amateurs, so is it acceptable to say the film utilizes the Danish cinematic tradition of stressing a realistic acting style?

Radoor: With regards to "A Hijacking," that was the decision of the director. The negotiator who helps the CEO is not a professional actor. In fact, in real life he's an actual negotiator. But he's still a wonderful actor. It might be quite different if he were called upon to act in a role that has nothing to do with what he does in real life. It's a case of a person who has special knowledge and skills recreating himself, and in order to show reality, it's a very effective method.

Malling: As a negotiator he's a professional among professionals. In the telephone negotiation scene I ad libbed, and he did a marvelous job reacting to what I said tremendously–it was even better than my own acting. I really enjoyed working with him, but even more I learned a lot.

–One of the crew members wore a wedding ring around his neck. This ring gives him strength to withstand his ordeal, but when the pirates discover the ring a tragedy occurs. Many recent Danish movies that have been distributed in Japan focus on familial love as a vital force. In this particular story familial love has unfortunate consequences. I found that ironic.

Radoor: The worst outcome of a hijacking is death. No matter how much effort a negotiator makes, that could be the end result. In order to convey this eventuality, we had to address death. That character shouldn't have exposed his wedding ring under the circumstances, but at the same time his desire to be back with his family was too strong. Death is always at hand, and that's something we wanted to convey by showing this family-related irony.

©2012 TIFF

Interview by Kosuke Wakaki