2012.10.29
[Event Reports]
The 25th Tokyo International Film Festival Award Winners Press Conference

Date & Time:
October 28th (Sunday), from 16:30 @ Sky Studio, Roppongi Academyhills, Mori Tower 49F

Competition:
Tokyo Sakura Grand Prix: The Other Son (directed by Lorraine Lévy)
Special Jury Prize: Juvenile Offender (directed by Kang Yi-kwan)
Award for Best Director: Lorraine Lévy (The Other Son)
Award for Best Actress: Neslihan Atagül (Araf – Somewhere in Between)
Award for Best Actor: Seo Young-ju (Juvenile Offender)
Award for Best Artistic Contribution: Pankaj Kumar, Director of Photography, Ship of Theseus
The Audience Award: Flashback Memories 3D (directed by Tetsuaki Matsue)

TOYOTA Earth Grand Prix:
TOYOTA Earth Grand Prix: Himself He Cooks (directed by Valérie Berteau, Philippe Witjes)
TOYOTA Earth Grand Prix Special Jury Prize: Trashed (directed by Candida Brady)

Winds of Asia-Middle East:
Best Asian-Middle Eastern Film Award: Night of Silence (directed by Reis Çelik)
Special Mention :
Bwakaw (directed by Jun Robles Lana)
Him, Here After (directed by Asoka Handagama)
Full Circle (directed by Zhang Yang)

Japanese Eyes Best Picture Award: GFP BUNNY (directed by Yutaka Tsuchiya)


■ TOYOTA Earth Grand Prix: Himself He Cooks
Philippe Witjes (director): Thank you for the prize and I want to thank you for the great organization, the welcoming to Tokyo, and the techniques of the audio and sound. I hope you watch this movie and rethink what food and eating means to us all. That's the purpose of this movie. Every person has the right to work at his own pace. Food production can be done at any pace with good results. What's not good is cooking with stress.

©2012 TIFF

■ TOYOTA Earth Grand Prix Special Jury Prize: Trashed
Tabitha Troughton (Associate Producer): To have won this award is incredibly important. Thank you from the entire Trashed team! It was an extraordinary experience traveling around the world with this film. I'm aware that a movie cannot solve the trash problem in the world but what I can do is to bring this problem to the minds of the people; to bring out what we already know. It just needs addressing.

©2012 TIFF

■ Japanese Eyes Best Picture Award: GFP BUNNY
Yutaka Tsuchiya (director): I'm aware that this is a controversial movie. I received good and questioning comments. It cost four million yen to make this movie which I paid out of my pocket and it will be another two million yen to advertise it. I am crowd funding the two million at the moment, but I'd like to ask for your support in funding young Japanese filmmakers. The juries said many films were not inspirational, that is, that independent films need a sharper edge. Yet, I wonder why major motion films do not do guerilla type films.
I belong to this organization called Independent Cinema Field which works to better the environment of independent scriptwriters, cinemas, and distributors. We had a meeting and decided to change the title of this movie. The title was too hard for the Japanese to remember so we asked the audience at TIFF to choose a new title from two new titles. It has changed to Tariumu Shojo no Dokusatsu Nikki (direct translation: A Girl's Diary of Thallium Poisoning).

©2012 TIFF

■ Competition Section Special Jury Prize: Juvenile Offender
Kang Yi-kwan (director): It wasn't easy to make this movie and it is as if a miracle that we got this far. When making films, you need to work with someone with the same target and aim. And having this film screened in Tokyo has allowed me to make many friends. Lastly, my warmest thanks go to the two actors that gave me the strength to continue.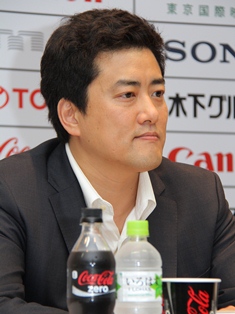 ©2012 TIFF

Lee Jung-hyun (Actress): One of the scenes I worked on was when the mother meets her son for the first time.
I first tried crying out loud but then that didn't feel right. Then, after talking with the director we decided that since the mother probably wouldn't know how to react, she'd try being her usual self. I think it worked out well.

©2012 TIFF

■ Winds of Asia-Middle East Best Asian-Middle Eastern Film Award: Night of Silence
Reis Çelik (director): I thank TIFF for allowing us to send out the voices to the world and the colors of the world. Sadly, such marriages with a big age difference are common around the world but we tend to avert our eyes from it. For instance, we see child brides in Turkey, Iran, and Afghanistan. Also, there are people from Germany who go to Thailand to do the same. This is why I did not use any specific name in this film. I wanted to convey that this issue is not particular to one country, but to the entire world.

©2012 TIFF

■ Competition Section Award for Best Actor: Seo Young-ju (Juvenile Offender)
Seo Young-ju: I am grateful to everyone. It is a delight to be participating in this festival and bit of a pressure as well. But it's wonderful to have won this prize. As for the difficulties in portraying this character, acting out a complex character was challenging as I am an average and ordinary person. Actually in Korea, the title of this film is Juvenile Criminal. My perspective towards these people has changed after being in this film. I used to be scared of them but now I understand that they are lost and so I'd like to be able to extend a hand to them from now on.

©2012 TIFF

■ Competition Section Award for Best Actress: Neslihan Atagül (Araf – Somewhere in Between)
Neslihan Atagül: My mother will be very proud of me! The most and only difficult scene was when the psychiatrist checks if the main character is prone to commit a crime. The psychiatrist was an actual practicing doctor. It was a short scene but the actual shooting was mostly improvised and 20 minutes long. But I welcome the challenge of acting such difficult scenes because I can mature as an actress with new scripts and films.

©2012 TIFF

■ Competition Section Award for Best Artistic Contribution: Ship of Theseus (Pankaj Kumar-director of photography)
Aida El-Kashif (actress): It is a pleasure to have been able to screen this film in Tokyo. Unfortunately Pankaj had to leave Tokyo a couple of days ago. He is an incredible director of photography. I still haven't contacted him about this award but I think he really deserved it and feel the award went to the right person. He will be super, super happy.

©2012 TIFF

■ Competition Section Audience Award: Flashback Memories 3D
Tetsuaki Matsue (director): This film is very special and I felt that the audience reacted in a very special way. I will always remember the two screenings we had at this film festival. I love coming to this festival as an audience and am here every year. I made this film 3D because to put it simply, I met GOMA. I think documentaries go well with 3D because it allows you to feel closer to the person, just by the image. Also, I wanted to portray the present and past GOMA on one screen which was only made possible using 3D. As for the future of TIFF, I find the Japanese Eyes section very promising. Small independent movies are featured at this film festival which gives the chance for young filmmakers to come forth. As a personal request, I wish for a place to be able to meet not only directors and actors but other members of the filming crew just like the festivals overseas.

©2012 TIFF

■ Competition Section Award for Best Director: Lorraine Lévy (The Other Son)
(See director's comment below)

■ Competition Section Tokyo Sakura Grand Prix: The Other Son
Lorraine Lévy (director): We are very grateful for this award. I never thought we'd win this award. I was able to share what I wanted to express to the world with the audience. This is what makes this award special. Last year, Untouchables was a great success—a French film too. I don't know if my film will be as successful but every film has its own path and it's different for each film. The path for my film is to open doors to the issues portrayed. The fact that I am French-Jewish did make me delve deeper into myself emotionally, intellectually, and artistically. I had the fear of not being able to fail with this film, that is, I had great hopes as well as fear. In Cannes, there weren't any female directors who won a prize. It is still difficult for a female to become successful. When I started directing there was still prejudice against us, but I believed that we have to be courageous and lead our own path.
My next film will be with Virginie again and I am already working on the script and have decided on the cast. I hope to be able to get the budget and start shooting next spring. It is also a film about seeking one's identity. The main character is a woman who left her child with the father and returns after 25 years. I'd like to portray why she had to leave and why she refused her maternal instincts.

©2012 TIFF

Virginie Lacombe (producer): I am honored and proud to win this prize. I love this movie and working with Lorraine. That's why we're making the next one together, too. There were difficult moments making this one—I devoted over four years of my life to this film so I am especially happy to be here today. It's truly amazing.

©2012 TIFF

Jules Sitruk (actor): I loved this movie from the moment I read the script. I thought it was a beautiful story so it's such an amazing experience to win the Sakura Grand Prix. I think Lorraine is a wonderful director and she deserves this award in every way. I must say that Lorraine is an intelligent and sensitive person. I have won the Grand Prix award at the Yokohama Film Festival. In France they say that what happens twice, happens three times—I hope that comes true!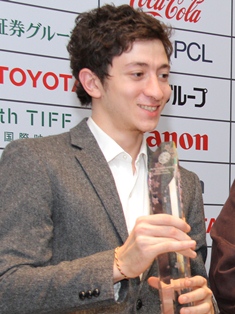 ©2012 TIFF


■ President of Jury
Roger Corman: This is the friendliest jury team I've ever been on. We got on very well. All the awards we selected were unanimous and it was the most enjoyable and productive group of people I worked with. The Festival was extremely well run and I felt that the choice of 15 films was very good. Although we have different political and religious beliefs, we agreed not only on our first choices but our second and third choices as well. I listed three choices for each award and when I compared them with the other juries, they had similar names so it was easy to narrow down the final films. W paid no attention to how many prizes a film would get. If we gave it any attention at all, the process of judging would have been swayed.
We chose The Other Son because it dealt with a problem in the world that has existed since 1948—a very long time. A tiny amount of land has been such a contentious issue. This film gave equal weight to the Israeli and Palestinian side without coming down as a pro-Israeli or a pro-Palestinian film. It balanced the political and social situation. The film was made on such a sensitive subject yet made a very simple but clear point; that all people are equal.

©2012 TIFF

■ Members of the Jury
Luc Roeg: I saw some wonderful films and it was a privilege to be on the jury team in Tokyo. We received such good care from the festival staff. Seeing the prize winners on stage was a special moment for us because we were looking forward to giving out the prizes. They were all very worthy recipients.

©2012 TIFF

Yojiro Takita: We saw 15 films in six days; that's about three films a day. Honestly, I thought it would be difficult to watch that many but it turned out to be a nice week. I realized that I still had the stamina left to do this job! It was interesting coming in touch with such unique pieces. After we watched one film we'd discuss it with the 'Big Father' and share our honest opinions—I feel like we've become part of the Corman family. In terms of the themes of the films this year, they focused around problems in relationship, love and motherhood; the familiar dilemmas we face in society. It's true that I was waiting for a film that dealt with hope for the future. But the films vividly reflected society today. As for other titles that we contemplated for the Grand Prix, there were Juvenile Offender and Araf – Somewhere in Between. I personally liked Feng Shui.

©2012 TIFF

Kyoko Heya: Each of the 15 films was interesting. As for the discussions with the juries, it was unanimous and the pieces we chose were definitely worthy of a prize. Although they were diverse in their own sense, the underlying theme of many of the films was the relationship of mother and son. In particular, there were many pieces about motherhood. What these films made me realize is that although the films are from different countries, the basis is the same. We juries were also a mix of different nationalities and this is probably why we were able to decide on the prizes.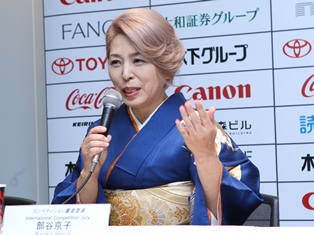 ©2012 TIFF

Emanuele Crialese: With two directors, a producer, and production designer, I am thinking of proposing a new crew to produce a movie! We worked like a real movie crew in a sense. I've been a jury before but I've never had such agreement with other members. After each screening, we gave our honest comments and on the last jury meeting, we all came together. Therefore, it was absolutely an unanimous vote for the Grand Prix, Jury, and Best Director prizes. We felt that youth, motherhood, and womanhood were common themes and a major inspiration among many of the directors in the Competition section. These are sensitive themes today. Also, the TIFF staff was so wonderful that I almost wanted to come to Japan to work—but I would need to learn the language first!

©2012 TIFF